Aquatic Therapy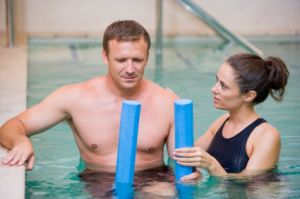 Exercise in a buoyant environment for any condition, using water weights and floats.
A perfect exercise environment for those suffering from arthritis or other conditions making prolonged standing or walking difficult.
Our pool is heated to a comfortable 89 degrees F, perfect in all seasons!
This program is under the supervision of a licensed Physical Therapist and includes a comprehensive evaluation.
This program is supervised by a Physical Therapist. First visit includes an initial evaluation by a Physical Therapist.
Please call for further details!
671 Naomi Ave. • Arcadia, CA 91007 • P: (626) 446-7027