Ergonomic Consulting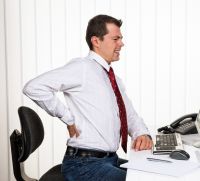 Examine essential job functions
Examine potential health risk factors from the worker, the work and the workplace
Custom, yet cost-effective solutions
Continuous repetitious movement leads to musculoskeletal discomfort in a predictable pattern of events. Described as the "Fatigue to Disability" continuum, the concept provides an accurate picture of what happens to the tissues when exposed to repeated stress and strain.
Discomfort and pain are not a result of one-time events. Rather, they are the accumulated expression of repeated exposure, with a gradual breakdown in tissue tolerance leading to a predictable series of events (fatigue leading to discomfort, which leads to pain, which leads to injury, which leads to disability).
Common repetitive movement diagnosis include, shoulder and elbow tendonitis, carpal and ulnar nerve compression, muscle spasm of the neck and mid-back, sciatica and many others.
Three common faults are found in most office workstation settings: over reaching, incorrect heights and unbalanced work areas.
Ergonomic Intervention/Workstation Evaluations - strive to assess and correct these common faults to minimize the effects of repetitive strain. Most often making small seating, desktop or computer placement adjustments can have a large effect on user comfort and worker longevity.
Evaluations most often take less than an hour and can save you or your company many times that in time, money and pain with most often simple adjustments and teaching/training.
Please call for further details!
671 Naomi Ave. • Arcadia, CA 91007 • P: (626) 446-7027